For years I've starred up at the canyon wall that surround the town of Moab, wondering what exactly is up there any how could I get there. Well, a few weekends ago, I found out exactly how, and it was followed by one of the best days on a mountain bike I've ever had. I'm talking about the classic trail link-up of Mag7 to Gold Bar to Portal. Each of these three trails is unique and incredibly challenging for drastically different reasons. And 5 1/2 hours later, my two friends and I were back at the truck, exhausted, and ready for a beer to cap off an incredible day on the bikes.
What exactly is the Mag 7 – Portal Finish trail in Moab? Well, it's a 21 mile trail that starts on top of the Plateau where Canyonlands National Park is located in Moab. From the trailhead, the route descends down both flowing and technical slickrock for 10 miles. The first half descent tracks down Getaway (Blue), Bull Run (Black), and Arth's Corner (Blue). Following the first half, starts the difficult section of this trail. Once you cross Gemini Bridges Road, it's a gnarly, steep, and punchy climb up 1,700ft of desert riding on the Gold Bar Rim Trail and Gold Bar Road. After you successfully navigate the climb to the top of the cliff's edge, the fun has just begun. A technical traverse along a cliff with a 1000 feet of nothing over the edge on the Gold Bar Rim Trail, followed by one of the most technically demanding and challenging trail, called Portal.
The ride isn't a normal start and finish from the trailhead, unfortunately, there's a bit more logistics to go into it. You need to shuttle to the top, leaving a vehicle at the bottom for the finish. After that, my two friends Nate and Tyler dropped into the trail for our epic ride ahead of us. Even though the ride is primarily downhill (3,800 feet of descending), in the desert, even when you're going downhill, it's still filled with punchy climbs that are exhausting. But that didn't get in the way of riding some of the most fun trails at the Mag7 area. We took turns leading out down some of the technical features and flowy sections of Bull Run, regrouping after each section to share the stoke. And the first half descent was capped off with my favorite trail in Moab, called Arth's Corner. This trail is packed filled with rock drops, huge sweeping slickrock sections, and tons of difficult step-ups that require all of your focus and energy to navigate.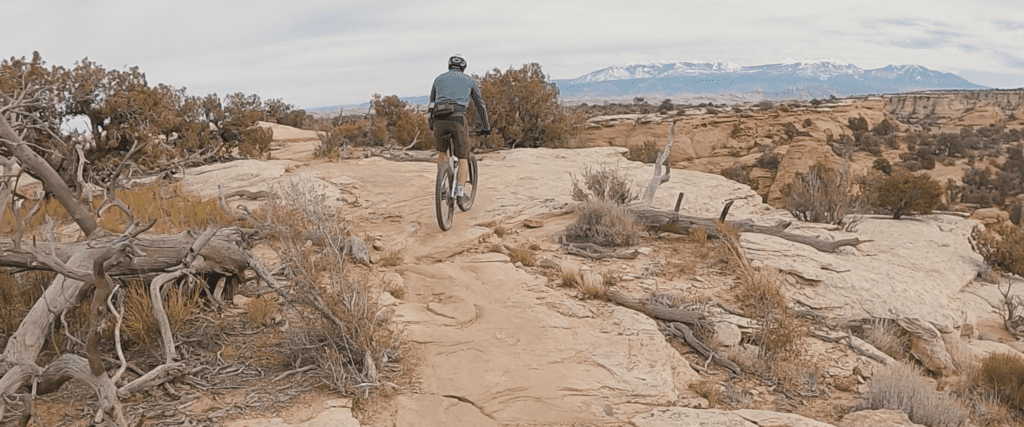 Gold Bar Jeep Road Climb (Mile 10.5)
After the first half descent is done, it's onto the uphill section. See, in the desert, the trails are made up of either soft or slickrock. Slickrock, which is the infamous orange and red sandstone of Moab, is a mountain biker's dream terrain choice. Unlike back in the day, when horses and wagon wheels couldn't gain traction on the rock, which is how it got its name, mountain bike tires grip to slickrock like velcro! This is absolutely required to accomplish some of the difficult, back-to-back sections of climbing up steep 1 to 3 feet step-up climbs. You're able to crawl up the steepest rocks and never loose traction, well, as long as your legs can keep pushing. And that is required to climb up the Gold Bar Road, which is normally only tackled by modified Jeeps and off-roaders with big engines. And we struggled up this hill, very, very slowly, with very high heart rates.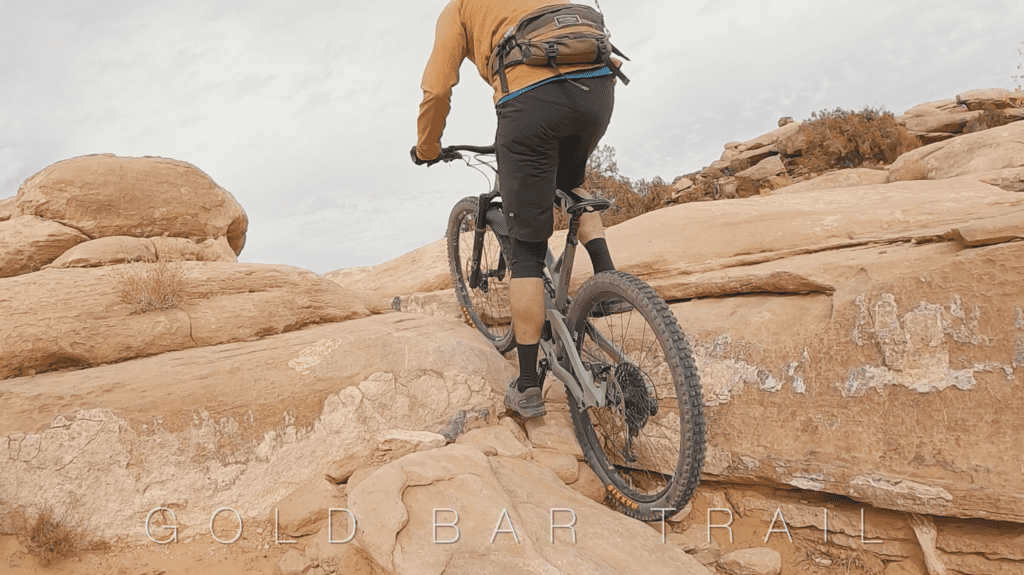 Gold Bar Rim (Mile 14.7)
Once you climb up, you treated to one of the most incredible views of the Moab area below. Arches off to the east, Moab to the south, Canyonlands and the Colorado River to the West, and of course, the snow capped LaSalle Mountains off in the distance. And after eating a few snacks, to help replenish our energy that was quickly draining, we headed down on the double black diamond rated Gold Bar Rim singletrack. This trail was wild! Starting off with very steep and technical features that slot between narrow rock sections, spitting you out onto huge slickrock slabs. Each descent was followed by a quick climb up to the next feature, and repeat. All while you skirt the edge of the rim, following the trail that goes ever-so close to the void below. On this section, Nate somehow blew the crank off his bike on a climb, which had us trying to do some trailside repairs to keep riding. Eventually, we were able to get the crankset with it's damaged splines back onto the bottom bracket with some critical input from Tyler coming up with the solution and we were back riding to the end of the Gold Bar Rim trail, which meant the fun was about to begin on Portal.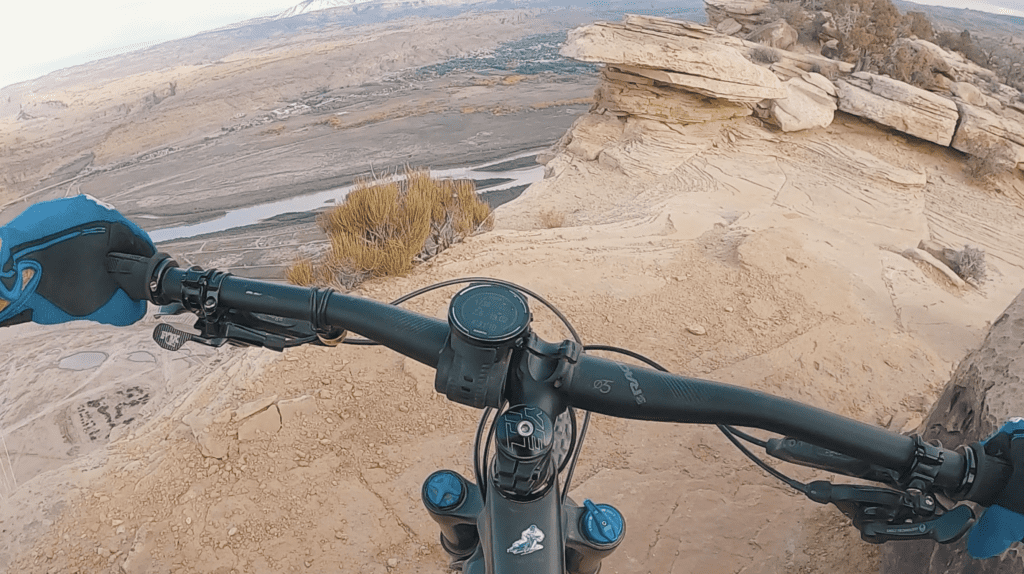 Portal Trail (Mile 18.4)
The proline rated (harder than double black diamond) Portal trail, is a Moab classic for the extreme riders out there. Broken up into two sections (Top Half and Bottom Half) will have your nerves, and tires, on edge the entire time. The first half is the iconic portion of the trail where you are quite literally riding on a two foot wide sliver of trail on the middle of a sandstone rockface. As in, hundreds of feet of rock to the right side above you, and hundreds of feet of nothing on your left side. The trail isn't too technically demanding (relative to the second half), but does feature a few sections that you absolutely must walk your bike, because even the slightest miscalculation will result in certain death. But that doesn't stop the fun to be had flying along the trail, clearing rocky steps, floating down the chunky drop sections. But once you clear the first half, you are treated to the most difficult riding I've ever done. Not so much the steepest trail, but sections of technical rocky features that your tires need to hit the perfect line, maybe only an inch or two wide, in order to have a chance of navigating successfully. I say a chance, because each feature flows immediately into the next, requiring you to maintain your wits about you, looking ahead at the next feature, while your tires are still navigating the one you're on. The sections of trail can twist, turn 180 on a dime, and drop 10 feet, all within a few yards of trail. And of course, throughout the trail, are sections where the rocks are so unevenly spaced, that the slightest error will result in your front wheel getting stuck and you flying over the handlebars like superman into a less than soft landing.
With that being said, nearly every section of Portal trail can be walked down if you've gotten in over your head. Which we definitely did on some of the switchback features. There was no way we were able to control our bikes enough to navigate a hard chunky section at full speed, stop on a dime, then flip the bike around 180 degree, and down a 6ft slab. Just wasn't going to happen. So it begs the question, can you only say you've ridden the Portal trail if you clean every feature? Or is there an acceptable percentage that you can walk? Either way, it was some of the most fun I've ever had on a mountain bike! Will I do it again? You bet! But hopefully I'll be in better shape next time, so once I get to the top of one of the most difficult trails in Moab, I'll have all my strength and energy to really rip down that trail! And somehow, all three of us reached the truck without any major crashes, and in good enough shape to head into town for some beers at Moab Brewery!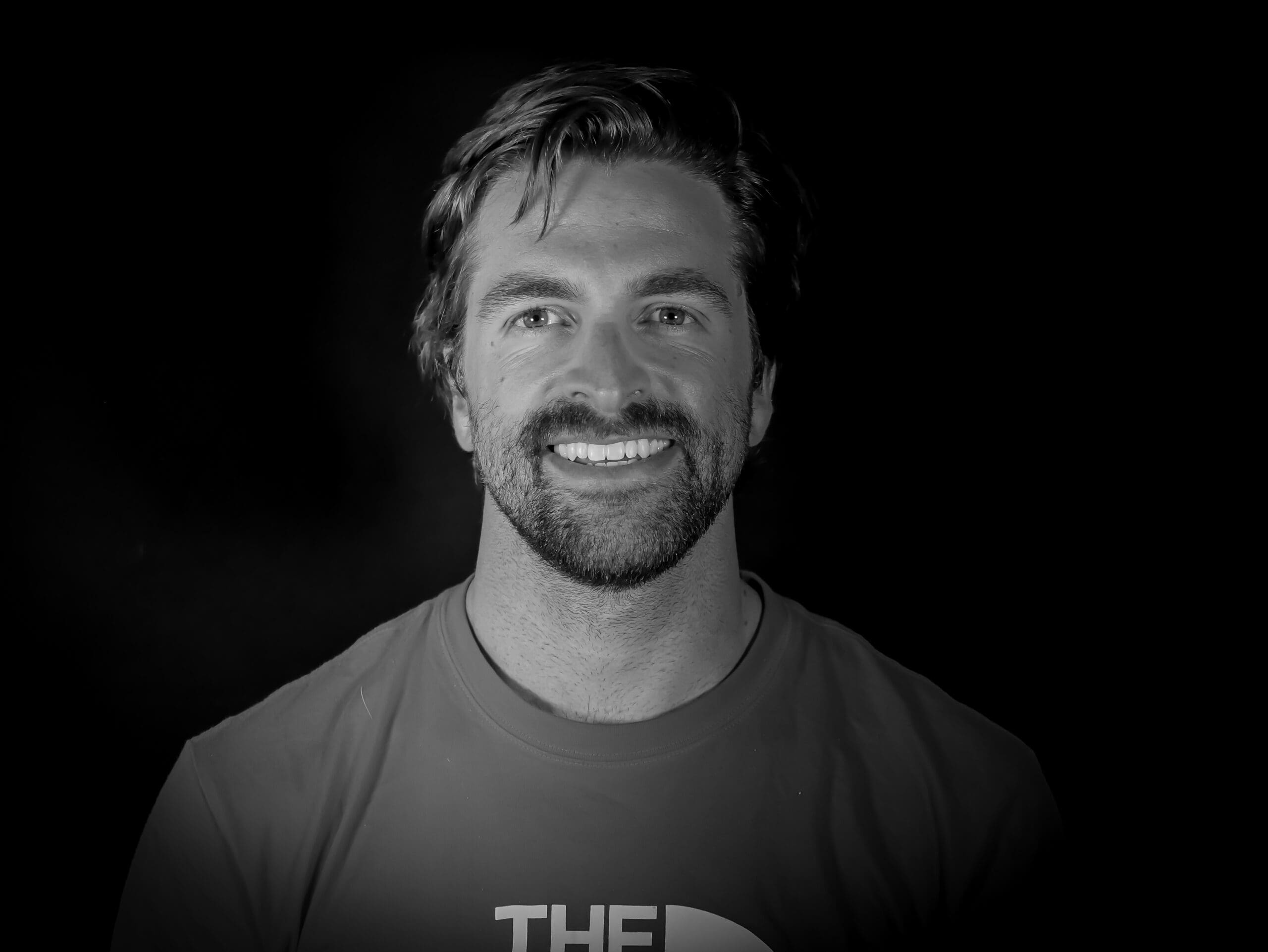 Hi there, my name is Zachary Kenney and I'm an adventure filmmaker & photographer.  My passion is to tell stories that will hopefully motivate you to go live a more adventurous life. Whether that is to experience the view from the summit of a mountain, or wandering through a new town on a road trip. Currently based out of Park City, UT.